Win Flowers, Travel & Much More with April's Last Shower
And so goes another month… bring on those May flowers already! Plenty for you to win today, including a trip for two to Tahiti WITH spending money, a fantastic Beauty and a just-in-time fashion giveaway, plus a huge tip on how to be the first one to scoop up the discounted gift card of your choice.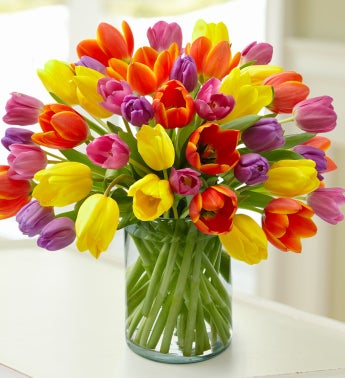 Win $200 in Flowers from 1-800 Flowers – It may not be just in time for Mothers Day, but enter to win $200 in May flowers in celebration of Mother's Day. Win two Enchanting Tulips Bouquets (vase included) from 1-800-Flowers.com – one for you & one for the recipient of your choice (each valued at $99.99). Click here to see the Enchanting Tulip Bouquet from 1-800 Flowers. To enter, join Coupon Mountain on Facebook, or browse the 1-800 -Flowers deals page & website and answer the following questions in the comments section of the blog post/entry page: In your opinion, what 1-800-Flowers bouquet is the perfect Mother's Day gift? Everyone who comments will be placed into a random drawing. The contest will end on May 4, 2011; see contest rules on the entry page.
Check Plastic Jungle for discounted 1-800 Flowers Gift Cards now   >>>
Bloomingdale's Back to Basics Sweepstakes – Have you checked into Bloomingdale's lately? Here's your last chance to enter their giveaway, which includes 10 perfectly chosen wardrobe basics from Diane von Furstenburg, James Perse, Citizens of Humanity and more, in your size (worth about $1,600) to get you outfitted. Or click on the Bloomingdale's SALE banner also on the home page, to get the latest in Women's, Men's, Children's, and more goods on sale (and with a discounted Bloomie's Gift Card from Plastic Jungle, you'll increase your savings). Sweepstakes ends May 1, 2011; check the Bloomingdale's sweepstakes rules for details.
Get a discounted Bloomingdale's Gift Card now   >>>
Chicken of the Sea Funniest Kids' Quotes Contest – Win big for the family. Log into Facebook, and look up Chicken of the Sea (or use our link, above). Write up that funny quote from your kids that you repeat to friends making them howl with laughter, because  Chicken of the Sea is giving away a trip to a Disney park for the winning quote, plus runners-up will get $1,000 and $500 respectively. Even better, every Friday during the contest features a random drawing for a Chicken of the Sea prize pack. To enter, submit your short essay on the Facebook entry page of the funny comment or question by June 6 at 11:59 p.m. PDT. Starting June 7 at 9 a.m. PDT, get ready to tell all your friends to vote for your funny story once a day because the entries with the most votes will win! Voting ends June 28, 2011 at 11:59 p.m. PDT. See Funniest Kids' Quotes Contest official rules for details.
Get Chicken of the Sea with a discounted Target or discounted Walmart Gift Card now   >>>
Win $300 of Bobbi Brown Makeup – Just let Bobbi Brown in on your beauty secret and you could be chosen (randomly) as one of five winners of a $300+ Bobbi Brown prize pack: Bobbi's Best Sellers Beauty Kit. Contest ends May 14, 2011; see contest rules for details.
WAIT There are more Bobbi Brown Giveaways — On Tuesday, May 3, 2011, between 12:01 AM to 11:59 PM EST, you could WIN Bobbi's Secret Gift Bag in a Tweetstakes. Follow @AskBobbiBrown on Twitter and tweet a response to the prompt with the hashtag #BobbisSecret. Four winners will be chosen at random; check the contest rules for details.
Save on Bobbi Brown with a discounted Macy's or discounted Nordstrom Gift Card now   >>>
Win a Trip to the Billabong Pro in Tahiti – You may not surf, but you may be looking for a free getaway or free honeymoon in Tahiti, or what the heck, both! Here's your chance. There are FIVE of the grand prizes to be given away: a trip for TWO to Tahiti (to see the Billabong Pro surfing contest) plus $750 spending money. And just for good measure, the folks at Monster Energy drink are also sponsoring 100 of the 1st Prizes: a cool Billabong backpack. Sweepstakes ends June 30, 2011; see the Monster Energy giveaway's official rules on the entry page for details.
Get to Tahiti or plan your honeymoon without winning: Get a discounted American Airlines, discounted US Airways, discounted United Airlines, or discounted Southwest Airlines Gift Card now   >>>
DID YOU KNOW?
Set up a free account with Plastic Jungle (no financial account information required), and then you can set up email notifications for your favorite restaurants or merchants: you'll be emailed when discounted gift cards or eCODEs from any one of our over 400 merchants come into stock on the site. So, even if there are no discounted United Airlines gift cards available right now, as soon as they come in, you'll be the first to know!
Enjoy this last weekend of Spring showers and let's welcome May in with a win! Good luck, and don't forget to tell us what your favorite sweepstakes are. Perhaps I can respond with more giveaways in your interests.
Category:
Gift Card Giveaways
,
Sock Drawer Savings
| Tags:
Airline Gift Cards
,
Airlines Discounts
,
Billabong
,
Bloomingdale's Deals
,
Bloomingdale's Gift Card
,
Bloomingdales
,
buy gift cards
,
Chicken of the Sea
,
contest
,
discount gift cards
,
discounted gift cards
,
Free makeup
,
Funniest Kids' Quotes Contest
,
Gift Card Exchange
,
gift card giveaways
,
gift card ideas
,
Gift Card Mall
,
giveaways
,
Macy's Deals
,
Macy's Gift Card
,
Monster Energy Drink
,
Mothers Day Deals
,
Mothers Day Flowers
,
nordstrom deals
,
Nordstrom Gift Card
,
plastic jungle
,
save on discounted gift cards
,
sweepstakes
,
Tahiti giveaway
,
target deals
,
Target Gift Card
,
target gift cards
,
Walmart Gift Card
,
Walmart Gift Cards