How to Check the Balance on Your L.L. Bean Gift Card or L.L. Bean Email Gift Card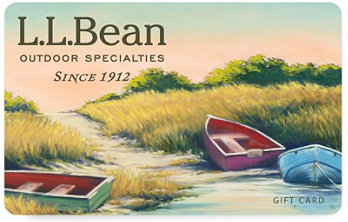 If you've been to Freeport, Maine, you know. While late adds Bass Pro Shops and Cabela's are superstores for the sporting life, 99-year-old institution L.L. Bean is the granddaddy of all superstores and beyond compare. If you like to hike, swim, fish, go to school, hit the slopes, sled the hills, fish the streams, canoe the Boundary, pack the pack, dig the shore, head to the cabin, sail the waves, camp the national parks… well, L.L. Bean should already be a part of your life.
Back in 1912, Mr. Bean's mail-order catalog became well-known when he started marketing hunting wares to out-of-staters who came in for the season. His catalog's highlight was the "Bean Boot", or Maine Hunting Shoe, and the boot remains a staple of the company's outdoor image and remains trendy today.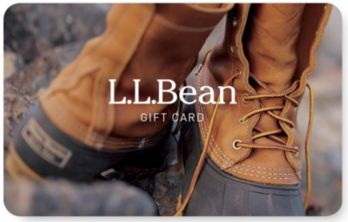 The original retail store, located at L.L. Bean's HQ in Freeport, was known as the "outlet" — which now carries a different connotation for most shoppers — and now is a bit of a Mecca for all kinds of shoppers from all over the world. The store brought so many people to town that the area became home to 100s of retail outlets; you can find information and coupons for the latest slew of stores at FreeportUSA.com, the official site of the merchants' association.
Today, the L.L. Bean flagship store is open 24 hours a day, 365 days a year. With its "campus" layout, it might be worth a devoting a day of shopping, as you visit different departments in separate buildings. As always, you can count on their quality customer service, free returns, 100% Satisfaction Guarantee, and now, free shipping on any order, no matter the amount you spend.
For trivia buffs, I propose a bonus question: What is the full name of L.L. Bean, the store's founder? See the * below for your answer!
With L.L. Bean, you can send or purchase Gift Cards two ways: via mail (5-8 working days for delivery) or via email (2-4 hours for delivery). Check the L.L. Bean Gift Card page for the latest terms and conditions on the cards.
Get discounted L.L. Bean Gift Cards or L.L. Bean eCODEs on Plastic Jungle (up to 11% off at time of writing)  >>>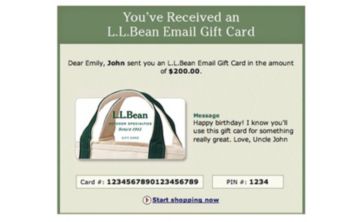 Check the Balance on Your L.L. Bean Gift Card or L.L. Bean Email Gift Card
Online: Go to L.L. Bean's Gift Card Check Balance page. If you have an involved question, you could email L.L. Bean Customer Service.
Phone: Call L.L. Bean Customer Service: 800-­441-5713 or click the "Call Me" button on any of L.L. Bean's website pages.
Want to Find an L.L. Bean Store? Check out the L.L. Bean Retail Store and Outlet Locator online.
Want a Current L.L. Bean Catalog? There are multiple catalogs to choose from: Men's, Women's, Kids', L.L. Bean Hunting, L.L. Bean Fishing, L.L. Bean Gear & Clothing, L.L. Bean Home and more — check the current L.L. Bean Catalog selection online.

Sell Your Gift Card
Once you know your balance, you can sell or trade your gift card securely on Plastic Jungle. At Plastic Jungle, you can trade any unused gift card for cash, or trade it for an Amazon.com Gift Card, or use it to donate the funds to charity (Gift Cards for Good—look for the green ribbon at checkout), or even fund a PayPal account.
To know how much your gift card is worth in exchange on Plastic Jungle, on the main page, click "Sell Gift Cards" at the top of the page. Look up the store and enter the gift card balance you've just acquired. You'll see instantly what your gift card balance is worth in cash or trade.
Check other Plastic Jungle blog posts for the same "Check Your Gift Card Balance" information for other stores, including Sears, Land's End, Macy's, Best Buy, Lowe's, and more.
*Trivia Answer: Leon Leonwood Bean
Category:
How to...
| Tags:
amazon.com gift card
,
buy gift cards
,
discounted gift cards
,
exchange gift cards
,
Gift Card Exchange
,
gift card ideas
,
Gift Card Mall
,
gift card swap
,
gift cards
,
Gift Cards Online
,
L.L. Bean Deals
,
L.L. Bean discount
,
L.L. Bean Email Gift Card
,
L.L. Bean Gift Card
,
plastic jungle
,
save on discounted gift cards
,
Sell Gift Cards